3


Available
Positions

Until 30 August 2021
3 Available Positions

Until 30 August 2021
Join us
Grow yourself
Read the JD and apply with your CV and Cover Letter
Accounting Associate
(X 1)
Full-time
300$-600$
Duties
Key in all daily transactions

Check all receipt expenses

Prepare payment vouchers

Assist in preparation of financial reports

Control income and expenditure

Prepare accounts and tax returns

Perform month-end accounting activities such as reconciliations and journal entries

Generate financial reports and statements to the management for review

Respond to accounting inquiries from the management in a timely fashion

Monitor expenditures, analyze revenues and determine budget variances and report the same to the management

Provide guidance to team members and other departments when needed

Review and recommend changes to existing accounting procedures
 Requirements
University students or possess a bachelor's degree in accounting/finance or equivalent certificate

Be well organized, details oriented and able work in a fast-paced environment

Be advanced in Ms. Office and Ms. Excel or any computerized accounting system

Experience in local accounting practice and taxation

Experience in service or trading industry
Fairly good command of English
Customer Service Associate
(X 3)
Full-time
200$-500$
Duties
Warmly welcome customers, both walk-in and call-in

Care all customers' cases with special attentions

Prepare a complete procedure for translation and consultation

Build sustainable relationships of trust through open and interactive communications

Provide clients with accurate, valid and complete information by using the right methods/tools

Identify and assess customers' needs to exceed their full satisfaction

Keep good records of customer interactions, feedback and resolutions

Work closely with relevant departments to ensure that proper customer care is delivered in a timely manner

Other tasks as assigned by the team leader and other management members
 Requirements
Hold relevant university degree or equivalent certificate, and/or relevant experience

Good communication, interpersonal and problem-solving skills

Fairly good command of English and fluency in Khmer

Be friendly, patient, attentive, and willing to learn

Knowledge of MS Office, internet & email.
Translator / Interpreter
 (X 5)
Full-time
300$-700$
Duties
Translate a variety of documents including literary, legal, research, technical, scientific, educational, and commercial materials from Khmer to English and vice versa

Interpreter of variety topics for workshop, meeting, seminar, research, and other possible events from Khmer to English and vice versa

Convert concepts in the source language to equivalent concepts in the target language

Compile information, such as technical terms used in different settings (legal, research, scientific, economics, medicine… etc.) into glossary and terminology lists

Manage work schedules to meet some aggressive deadlines

Render spoken messages accurately, quickly, and clearly in the target language
 Requirements
Hold a recognized degree in in English or any specialized field is preferred

Proven proficiency in English and Khmer Unicode typing skills

Knowledge of other languages is a plus

Be patient, attentive and willing to learn

Have strong interest in linguistic career improvement

Good behavior and interpersonal skills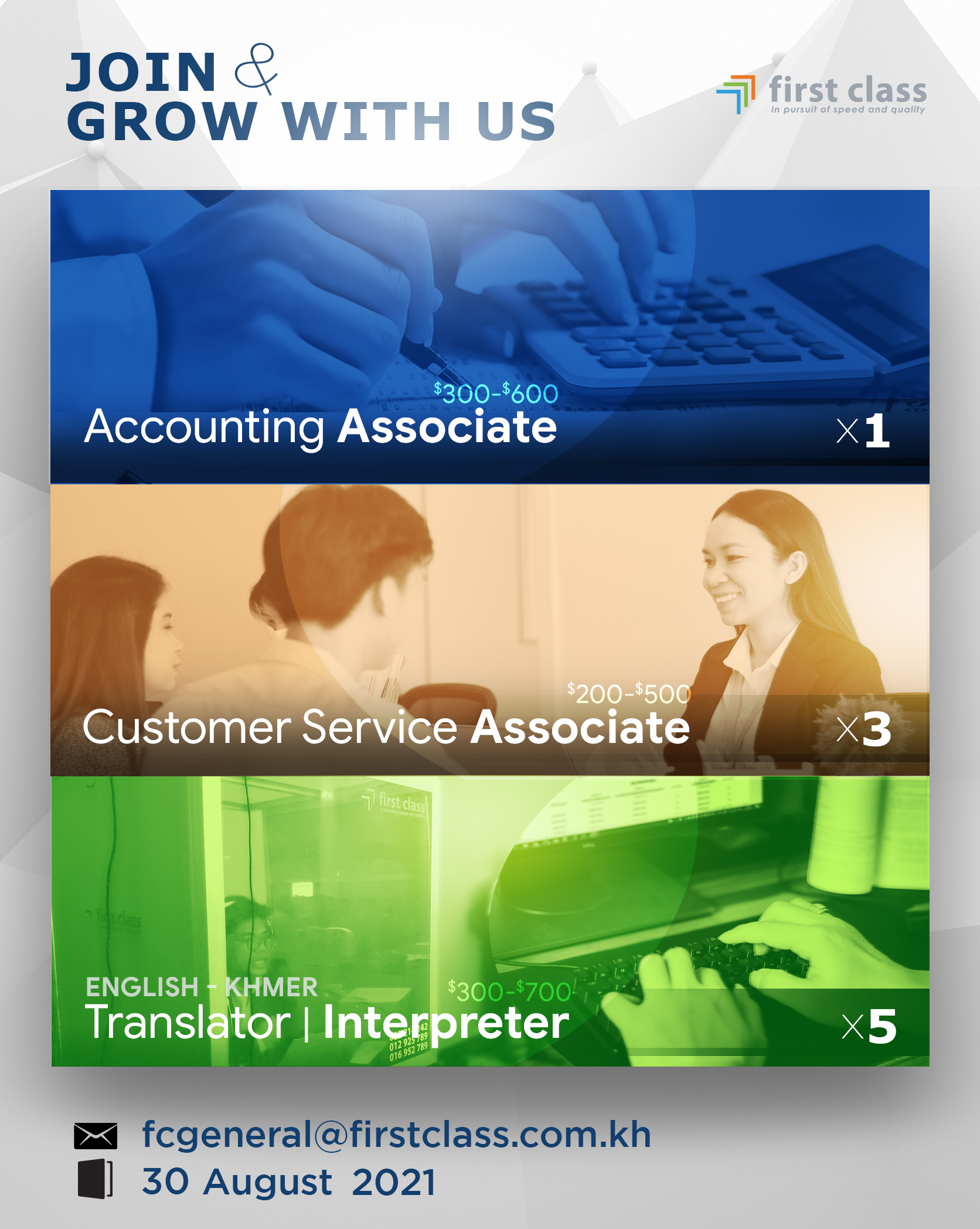 First-Class Solutions Ltd.
Translation | Visa | Education | Migration